Study Abroad for the Semester
Interested in studying abroad for the semester? Check out this PowerPoint presentation, Education Abroad Credit Policies & Procedures (PPT, 289 KB) with information about timeline, finding your courses abroad, receiving credit, and approval process.
Contact the Office of International Education & Development for more information.
Past Recreation Managment majors have spent a semester abroad studying in New Zealand.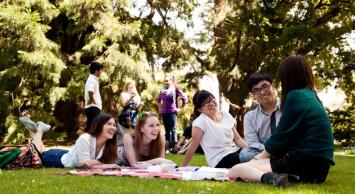 As such, we have a list of their courses that students could take over there that have been pre-approved to count towards some of our requirements.
| CPIT BSOE Course | Equivalent AppState Recreation Management Course |
| --- | --- |
| 506 Applied Outdoor Leadership | 3530 Leadership Expedition (3) |
| 507 Practical Leadership Pursuit Rocks | 3151 Climbing Site Facilitation (2) |
| 507 Practical Leadership Pursuit Ropes | 3152 Ropes Course Facilitation (2) |
| 508 Practical Leadership Pursuit Kayak | 3153 Water Based Paddle Sports (2) |
| 504 Teaching & Learning | RM 2220 Principles of Outdoor Experiential Education (3) |
| (or) 505 Professional Practice Foundations | RM 2220 Principles of Outdoor Experiential Education (3) |