The SPARK Elementary Physical Education Program
A Healthy Beginning:
The SPARK (Sports, Play and Active Recreation for Kids) Programs began studying elementary physical education in 1989, and today, the name SPARK represents a collection of exemplary,research-based physical activity/nutrition programs. The original SPARK study was initially supported by the Heart, Lung and Blood Institute of the National Institutes of Health.
Results: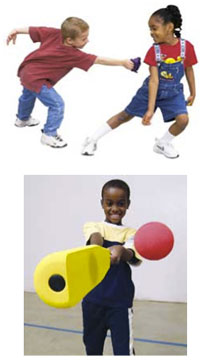 Numerous refereed publications (40 to date) have reported The SPARK Programs elementary physical education (PE) program effects, including papers showing evidence of achievement in the following variables:
Physical activity
Physical Fitness
Lesson context and teacher behavior
Academic Achievement
Motor skill development
Student enjoyment of the program
Adiposity
Long term effects/institutionalization
Process measures (parent behavior, teacher acceptance of the program)
Honors:
SPARK elementary physical education has been selected as the intervention program in many important research studies and cited in the Surgeon General's Report as a "school-based solution to our nation's health care crisis."
SPARK PE was validated by the National Diffusion Network of the U.S. Department of Education in 1993 and earned "Exemplary Program" status.
Sharing Good News and Growing:
Following the research phase, the elementary PE program was expanded to focus on dissemination. Over the years, additional research has led to the creation and development of:
Early Childhood (ages 3-5)
Middle School PE (grades 6-8)
High School PE (grades 9-12)
After School (ages 5-14)
Each program is a complete package of curricula, staff development, extensive follow-up consultation, and equipment (via our corporate sponsor, Sportime).
For more information on SPARK Elementary PE, please visit our website at www.sparkpe.org.