Degrees
B.S., Management of Recreation Facilities and Services, East Carolina University
M.S., Recreation and Park Management, East Carolina University
Ph.D., Recreation, Park, and Tourism Sciences, Texas A&M University
Teaching Specialties
Hobbies
Chasing my son Ethan around the house
Hiking
Reading
How did you discover Appalachian State University?
"App State is deeply committed to a problem that is also my life's work: inclusion. The fact that is also situated in the mountains--where I have dreamed of living since childhood--made this position perfect for me."
What is your favorite thing about Boone?
"The drive between Mountain City, TN and Boone reminds me every day how privileged I am to live and work here."
What most excites you about your field?
"Rec Management attracts a lot of courageous people. Their willingness to dream big, try things that might not work, and fight for the futures they care about is going to propel the field forward."
What are some of the highlights of your career?
"Every highlight of my career is expressed in the form of a relationship, whether with students I've mentored or peers with the patience to mentor me."
Favorite Quote
"Busy is a decision." -Debbie Millman
Professional Affiliations / Organizations
North Carolina Parks and Recreation Association
National Recreation Parks Association
Research Interests
Leisure History
Social Justice
Youth Development
Power
Resistance
Selected Publications
Theriault, D., & Mowatt, R.A. (2020). Both sides now: Transgression and oppression in African Americans' historical relationships with nature. Leisure Sciences, 42(1), 15-31. )(https://scholar.google.com/citations?view_op=view_citation&hl=en&user=nWmU0ZQAAAAJ&citation_for_view=nWmU0ZQAAAAJ:0EnyYjriUFMC
Theriault, D. (2020). The life and ideology of Channing Tobias. Journal of Leisure Research. Online First. (https://scholar.google.com/citations?view_op=view_citation&hl=en&user=nWmU0ZQAAAAJ&citation_for_view=nWmU0ZQAAAAJ:YOwf2qJgpHMC)
Theriault, D. (2020). Vulnerable teaching in leisure studies. Schole. Online First. )(https://scholar.google.com/citations?view_op=view_citation&hl=en&user=nWmU0ZQAAAAJ&citation_for_view=nWmU0ZQAAAAJ:Zph67rFs4hoC)
Theriault, D. (2019). Power threats and radical healing in Black youths' leisure. Journal of Leisure Research, 50(5), 413-424. (https://scholar.google.com/citations?view_op=view_citation&hl=en&user=nWmU0ZQAAAAJ&citation_for_view=nWmU0ZQAAAAJ:3fE2CSJIrl8C)
PInckney IV, H.P., Outley, C., Brown, A., & Theriault, D. (2018). Playing while Black. Leisure Sciences, 40(7), 675-685. (https://scholar.google.com/citations?view_op=view_citation&hl=en&user=nWmU0ZQAAAAJ&citation_for_view=nWmU0ZQAAAAJ:8k81kl-MbHgC)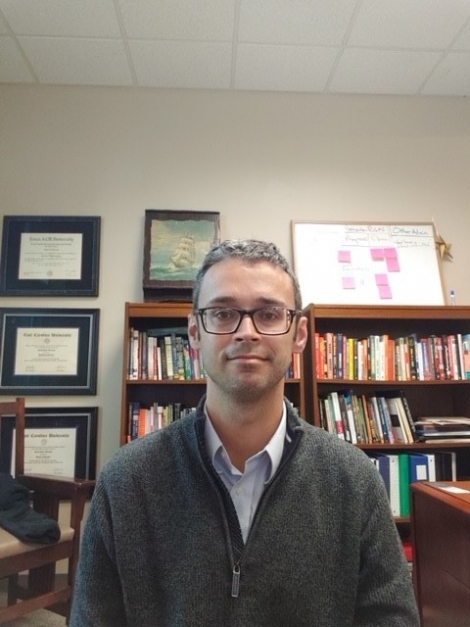 Title:

RM Program Director / Assistant Professor
Department:

RMPE

Email address: Email me

Phone: (828) 262-4989
Office address
HCC 40