Degrees
Ph.D. Exercise Science, 2004, Arizona State University
Masters of Arts in Teaching: Physical Education, 2001, University of South Carolina
Bachelor of Science: Health and Exercise Science,1998, Wake Forest University
Courses
HPE 4440 Health Education Methods
HPE 4320 Nutrition & Health Related Fitness
HPE 4310 Elementary Physical Education HPE 2120 Kinesiology CI 4020 Teaching Physical Education
Teaching Specialties
Physical Education Pedagogy
Sport and Exercise Psychology
Health Related Fitness / Strength and Conditioning
Professional Affiliations / Organizations
American Alliance for Health, Physical Education, Recreation and Dance
National Strength and Conditioning Association
NC Alliance for Athletics, Health, Physical Education, Recreation and Dance
Research Interests
Psychological determinants of exercise behavior.
Teaching of health related fitness.
Selected Publications
Sibley, B.A., Hancock, L.C., & Bergman, S.M. (2013). University students' exercise behavioral regulation, motives, and physical fitness. Perceptual and Motor Skills, 116(1), 1-18.
Sibley, B.A. (2012). Combining contemporary with classic: CrossFit in sport education. JOPERD, 83(8), 42-48.
Mohr, D.J., Sibley, B.A., & Townsend, J.S. (2012). Student perceptions of university physical activity instruction courses taught utilizing sport education. Physical Educator, 68(3), 289-309.
Sibley, B. A., Ward, R. M., Yazvac, T., Zullig, K., & Potteiger, J. A. (2008). Making the grade with diet and exercise. AASA Journal of Scholarship and Practice, 5(2), 38-45.
Sibley, B. A. & Le Masurier, G. C. (2008). Children's health & academic performance: Elevating physical education's role in schools. International Journal of Physical Education, 45(2), 64-81.
Sibley, B. A. & Beilock, S. (2007). Exercise and working memory: An individual differences investigation. Journal of Sport and Exercise Psychology, 29(6), 783-791.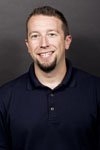 Title:

Associate Professor

Email address: Email me

Phone: (828) 262-6300
Office address
HCC 20