Degrees
Ph.D. Exercise Science, 2004, Arizona State University
M.A., Teaching: Physical Education, 2001, University of South Carolina
B.S., Health and Exercise Science, 1998, Wake Forest University
Teaching Specialties
Physical Education Pedagogy
Sport and Exercise Psychology
Fitness and Conditioning
Professional Affiliations / Organizations
SHAPE America
NCAAHPERD-SM
National Association for Kinesiology in Higher Education (NAKHE)
Certifications
NC Professional Teaching License
Research Interests
Motivation in exercise and physical education
Selected Publications
Sibley, B.A. & Bergman, S.M. (2017). What keeps athletes in the gym? Goals, psychological needs, and motivation of CrossFit™ participants. International Journal of Sport and Exercise Psychology. doi: 10.1080/1612197X.2017.1280835
Sibley, B.A. & Bergman, S.M. (2016). Relationships among goal contents, exercise motivations, physical activity, and aerobic fitness in university physical education courses. Perceptual and Motor Skills, 122(2), 678-700. doi: 10.1177/0031512516639802
Sibley, B.A. (2012). Using sport education to implement a CrossFit unit. JOPERD, 83(8), 42-48.
Mohr, D.J., Sibley, B.A., & Townsend, J.S. (2012). Student perceptions of university physical activity instruction courses taught utilizing sport education. Physical Educator, 68(3), 289-309.
Sibley, B.A. & Etnier, J.L. (2003). The relationship between physical activity and cognition in children: A meta-analysis. Pediatric Exercise Science, 15, 243-256.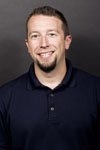 Title:

HPEC Director / Professor
Department:

RMPE

Email address: Email me

Phone: (828) 262-6300
Office address
HCC 21