Outward Bound Annual Leadership Expedition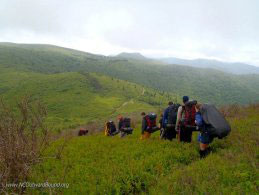 This summer the Appalachian State University Recreation Management (RM) Program will collaborate with the North Carolina Outward Bound School (NCOBS) to present the annual Leadership Expedition. Set to take place from May 13-23, 2020, this expedition will test your perceptions of leadership and personal limits in the wilderness of the Pisgah Forest near Table Rock, NC.
Over the course of 11 days, participants will build their skills in backpacking, rock climbing, wilderness navigation, and personal discovery. The expedition will also highlight leadership development through curriculum driven by discussions and activities focused on: group development, decision-making, and conflict resolution. Through challenge and adventure which are at the core of this expedition you will discover that you are capable of more than you thought possible.
Why Outward Bound?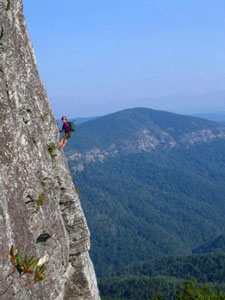 The mission of NCOBS is to "inspire people to develop and discover their potential to care for themselves, others, and the world around them through challenging experiences in unfamiliar settings". This notion of a transformational course design, when coupled with the academic pursuit provided by the RM program, has the potential to afford students the opportunity to move beyond the classroom and into a real world application of leadership.
The ASU/NCOBS Leadership Expedition key course objectives are to broaden enthusiasm for and understanding of self, others and as well as enhance your application of leadership.
Guiding Principles
Personal Development: to extend the student's self -awareness by identifying personal limits, clarifying needs and goals. To acknowledge a responsibility to self and others.
Interpersonal Effectiveness: to expand the student's capacity of responding to others, to encourage open and effective communications and to construct cooperative relationships around common projects and commitments.
Environmental Awareness: to enhance the student's understanding of the fragile nature of our world and to increase a sense of responsibility for its care and preservation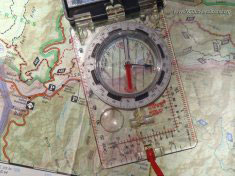 Learning: to create and maintain an environment and an attitude in which the emphasis is on experimentation and participant in experiential learning.
Philosophy and Values: to provide situations and experiences in which the students can test and refine their personal values and which will stimulate them to examine and articulate their beliefs.
Service: to provide students the opportunity to engage in meaningful projects with crewmates that seek to enhance their understanding of giving back and how service is an integral part of leadership development.
Credit hours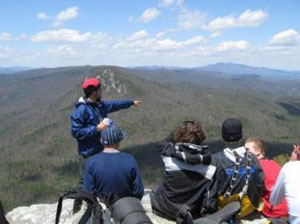 RM 3530: Leadership Expedition 3 hrs. The course will be augmented with a text titled "Leadership the Outward Bound Way". Students will utilize text and the ensuing expedition to learn: leadership models and methods, the value of followership, and have first hand experience with group dynamics as they relate to expedition travel. Using classroom style workshops while in the wilderness, instructors will present a variety of lectures and activities to enhance students understanding of the subject material.
Cost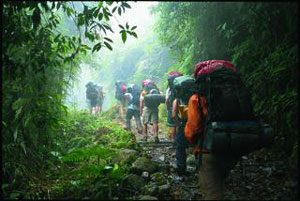 $1,925 expedition fee to be paid to NCOBS. (This fee does not include summer tuition).
Interested participants will be required to fill out a pre-trip application and medical to be considered for the expedition.
The expedition will be limited to 11 participants. In order to secure a place on the expedition a $300 non-refundable deposit is required.
Application Information
For further information please contact Jerry Cantwell at cantwellgp@appstate.edu.